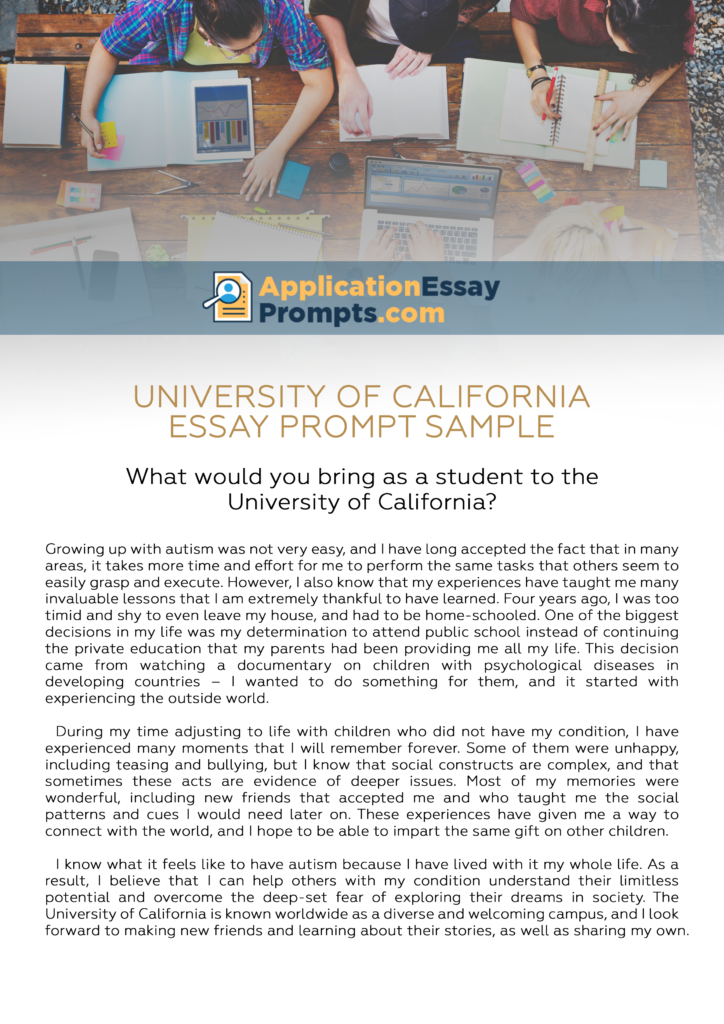 The University of California is among top universities ranked across America so it is unsurprising that college writing prompts and Purdue university admissions are very competitive. It has over 43,000 students and is spread out over nine campuses. You can be sure that the university's diversity will lead to a variety of University of California essay topics. Applying to a range of campuses will increase your chances of acceptance into the renowned university. UC is the leading arts and culture center in the West, making it a very exciting place to study.
The college's great reputation can easily make writing your University of California application essays a really daunting prospect, particularly with insight questions and core essays for admissions to worry about. Fortunately, our team of professional writers are on hand with knowledge of University of California essays that worked and an understanding of University of California admissions requirements as well as college writing prompts to help you. For more information on applications have a look at the University's website.
Application Samples for University of California Essay Prompts
We have compiled a list of University of California essay topics to give you an idea of how to prepare for the admissions prompts ready for your year of applications. This, along with the dates and deadlines on the UC website should help you get prepared for writing your own admissions essay and University of California personal statement. There are now eight personal insight questions to choose four from, each under 350 words. There are lots of topics available with these eight questions so choosing the right ones for you is particularly important!
Describe an example of your leadership experience in which you have positively influenced others, helped resolve disputes, or contributed to group efforts over time.
Leadership doesn't always mean a job, it can be any time you have lead or organised people. These don't need to be at school either; while volunteering or with family are good examples. Try to consider how leadership has changed your perspective, too.
Every person has a creative side, and it can be expressed in many ways: problem solving, original and innovative thinking, and artistically, to name a few. Describe how you express your creative side.
What have you done with your creativity? What does that creativity mean to you? Have you used it to solve a problem? That would be a great example as all admissions committees like a problem-solver! Creativity doesn't have to mean art or music!
What would you say is your greatest talent or skill? How have you developed and demonstrated that talent over time?
You don't need to have received awards or commendations for your talent but you should consider why it is important to you. Does it allow you to do anything you wouldn't have otherwise? Is it particularly unusual? Have you worked hard at it or does it come naturally?
Describe how you have taken advantage of a significant educational opportunity or worked to overcome an educational barrier you have faced.
This could be anything, even unrelated to school. Sports, teaching, skills enhancement or another class you took because you enjoyed it are all relevant. Anything that shows curiosity or the desire to learn more is a great quality to include in any application!
Describe the most significant challenge you have faced and the steps you have taken to overcome this challenge. How has this challenge affected your academic achievement?
This could be personal or a larger scale challenge that has affected you. Why was it a big deal and how did you go about solving it? Include your thought process and the steps you took to finding a way to solve the problem.
Why Our Services?
We offer a range of exciting services to help you with how to write University of California application essays. Our help with essays will set you on track to getting into the college of your dreams.
We tailor our writing to your specific requirements, focusing on your strengths, even for students with no experience.
Our writers offer free revisions until you are satisfied with your essays.
We have competitive prices with offers available on your first order and on larger orders.
Our writers are very experienced, most of them with degrees and higher education. Their understanding of topics to avoid and useful resources will mean you can be sure your application essay will be high quality!
We provide 100% original work so you can be sure you will stand out from the crowd.
Full refunds are offered if you aren't completely satisfied with your statement or if deadlines are not met.
You will get 24/7 customer support so you never have to worry that you can't get help when you need it.
Our rates are incredibly competitive so you can be sure you won't have to pay out of the nose for our services.
Get to the bottom of University of California essay prompts with our help!